Publication of your products in the comparison shopping engines will allow you to attract more new buyers to your store. This extension allows you to automatically generate a feed with products for all common comparison shopping engines (Google Product Search, Shopping.com, Nextag.com, Twenga.co.uk, etc.).
For demo contact me ; info@chandandubey.com
Feed is a file containing key information about all the products in your store. It uploads the information to the price comparison engines and the price comparison engines display your products in a lists of offers to purchase. How relevant your deal will be presented on the price comparison engines, will depend on how correctly the feed is created.
The Advanced Product Feeds extension has more than 20 configurations ready to create a product feed for all key price comparison engines. It will allow you to begin representing your products on price comparison engines very quickly.
The advanced feed manager supports various formats, has large-scale opportunities for filtering the uploaded products, and supports the creation of dynamic attributes and category mapping.
Generation of feeds occurs very quickly. At that, a generation process is divided into few smaller processes. Due to that generation of feeds, even 200000 products will be done without any problems.
Key features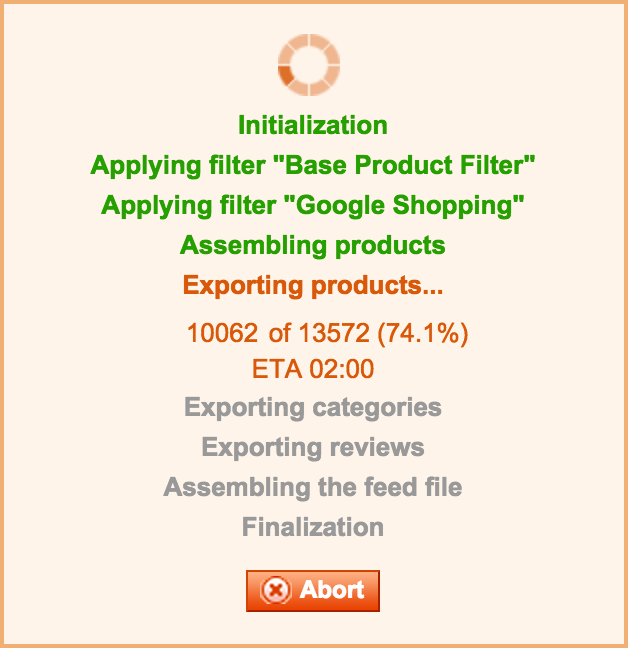 More than 20 ready configurations for all popular price comparison engines
Convenient and flexible mechanism for filtering products (filters based on attributes and performance filters)
Supporting formats: csv, txt, xml, zip
Email notifications
Comprehensive Analytics
Support multiple stores and multiple languages
Feed Management
Opportunity to create feeds for any price comparison engine
Opportunity to export different data and prices for each feed or store
Opportunity to access a feed file by a permanent link
Supports Google AnalyticsUses a campaign tracking code to tag the destination URL of each product. This way, traffic from a comparison engine will be reported in the "Traffic Sources > Campaigns" report
Email notificationsAbility to notify through email about generation status (success or fail), number of exported products and time of generation
Powerful filtersAbility to use case conditions and assign few filters to one feed. Filtering allowed by:

any attribute value
price
stock status / quantity
category
attribute set
product type
any attribute value of parent product

New

Comprehensive AnalyticsNumber of clicks, revenue, conversation rate per each magento data feed
Dynamic AttributesDynamic Attributes allows you to use your own conditions to define or change the exported value
Convenient interface for mapping the attributes, with an opportunity to indicate the type of displayed values
Category Mapping

Must Have

Easy to use interface allows you to tie current category taxonomy with the taxonomy of any price comparison engine
Export only new productsAbility to export products that are not included in a previous feed
Performance filters

by number of clicks
by number of orders
by revenue
by conversation rate (%)
Managing generation and submission
Opportunity to automatically generate the feeds according to schedule
Opportunity to automatically upload the feeds according to schedule
Opportunity to send the feeds through FTP/SFTP
Opportunity to enable / disable the passive mode
Templates
Pre-installed templates:

Google Shopping
Amazon
eBay
The Find
Shopping.com
Shopzilla.com
Commission Junction (cj.com)
PriceGrabber.com
Facebook
Buy.com
Nextag.com
Getprice.com
Newegg.com
Shopmania.com
LeGuide.com
Kelkoo.com
Twenga
Sears.com
Vergelijk (vergelijk.be)
Beslist (beslist.nl)
Kieskeurig (kieskeurig.nl)
HotLine (hotline.ua)
Yandex.Market (market.yandex.ru)

Opportunity to import / export templates
Opportunity to export reviews (Google Merchant Review Feeds)

New
Reasons to choose Mirasvit
Client focusing and satisfactionIt is our main goal. A big part of our new clients come from referrals from our existing clients. Our professional team of developers, marketers and support invest the best knowledge and experience, so you could come back to us again and again.
Remarkable support30-days free and high quality support. We make an effort to satisfy you with work of every module you have purchased in our store. Helping you with installation, configuration, answering your every question, we do all our best to eliminate any possible problems.
Risk-free Investment30-days money back guarantee. If you are not satisfied with work of our extension for any reason we provide a full refund.
Constant improvements and upgradesWe provide you 1 year of free updates. We constantly add new features to all our modules. We are absolutely interested to hear your opinion and to implement your suggested features in our future developments.
Comprehensive DocumentationWe provide an expanded user guide for every our extension, so you can find answers for all your burning questions.
Unencrypted source code of our productsYou can customize extensions according to your needs and requirements.
Usability and PerformanceModule is easy to install and easy to upgrade, just follow step by step our user guide.
Safe Magento updatesNo core modifications. Just copy extension files to store root directory.